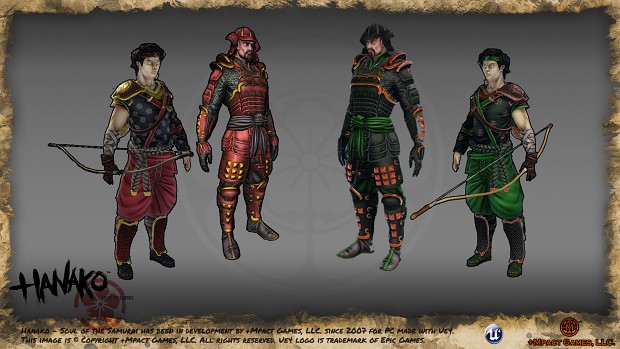 Most Important Update Stuff
The second character, the Samurai Archer has been implemented into our game with a few basic animations. We are really excited to finally be running around in playtests with a second character. Our team has been really hard at work getting in many new animations and features with a focus on basic combat for the Samurai Kenshi (swordsman). Combat feels really good right now, it's amazing to see the vision and design that's now 7-8 years old fleshed out and polished. We can't wait for you to play it eventually.
We have been streaming art production 3-5 times a week the past few weeks, and I'd love to show you guys how we make things, answer questions and just hang out and get to know the community so feel free to follow us on twitch and twitter to find out the streaming schedule:http://www.twitch.tv/hanakogame
Programming Update
Our programmers are hard at work on performance and game mode code, correcting some pivotal bugs that will have the game running much more smoothly in the next week or so. From there, we plan to migrate to UE4 4.2.0 to take advantage of new animation features and integrate our new UI solution (more below). We will begin adding in status effects (knockback, parry, knockdown, etc.) soon to combat and begin implementing rough training trees. Additionally, our lead programmer is wrapping up progress on our 'Battle' game mode, which is our take on Team Deathmatch with an added twist.
UI Update
 After a long debate, we finally have settled on Coherent UI for our UI/HUD solution. Scaleform is great to use for the style of interface we want to make, but Autodesk has priced itself out of affordability, however they were extremely friendly trying to work with us. We are working on basic framework for our menus and HUD and will keep adding more temp menus in to drive the game and setup the data architecture as well as rough training trees we can interface with.
Environment/Level Design Update
We are still hard at work on our Gifu Crossroads map. It's one of our largest/most open maps, but also requires a significant amount of art as well. We are focusing on the middleground and background right now to really drive home the feeling that you're in a much larger game world that leads to other places to visually communicate the next place in the campaign. Our junior artists are working on smaller level props to fill the level and have a nice variety of assets for cover and bringing the map to life. We should have them a polished enough to start showing more in the next few weeks.
Character/Animation Update
The Samurai Archer was just completed and implemented into the engine. It was quite an uphill battle to get him finished, as we struggled with the direction and getting a final product the entire team could be happy with. Despite the difficulties, I think he turned out about as good as he could given the circumstances save for a few more tweaks to come.
Our one man animation team has been on a warpath busting out animations at a very rapid rate. The Kenshi's animations are pretty much completely done and polished with a few more remaining. We're extremely happy with how much they've enhanced the feel of combat and it's brought a lot of excitement to the team and playtests.
Our third character (to be announced later) will begin production now, and he's probably the entire team's favorite as far as direction goes. To give a bit of a hint, he's a very popular class/type of warrior in Feudal Japan but we are giving him a very unique look and direction that not many games go with. We think he'll be one of the best renditions of this particular class seen in games, and given his gameplay design and how this class integrates into game modes we're pretty dang stoked to have you guys see what we have brewing in regards to all the above.
As a whole we're doing extremely well, we've had some talks with very large game studios that have offered very generously to help us get the word out about our game, and you may see us at their booths at conventions coming up in the next year or two. I ask you humbly, for your support and constructive feedback and know that if you give any of your time to this project that you're considered family. Please support us on all the social networks:
Twitter: @HanakoGame, @mattcanei
Facebook: facebook.com/hanakosoulofthesamurai
Twitch: www.twitch.tv/hanakogame