Most Important Update Things
We recently had three team members decide to leave the team as a group. With their departure, they left us with a variety of feedback. We were able to quickly recover and find more experienced team members to fill those roles which we are very excited about.
We asked the entire team for feedback on anything related to the game and got some great notes that we spent the last week or so pondering over. Of that, the biggest decision was to reduce the number of character classes for the release version of the game from 6 to 4, this will drastically reduce the workload for animation, character artist/rigging, concept and programming.
We felt this was the best move to give you guys 4 extremely well-rounded and polished classes out of the gate and focus on the 2 removed classes plus more for future releases (DLCs, patches, etc.) The important thing is that we get the initial release right and that its polished and fun, but that the workload is reasonable for our team size and nature of the team (after-hours work after working on the same type of tasks during the day). 
With that said… Here's the final concept drawing of one of the four classes that hasn't been announced or shown yet, the Ninja!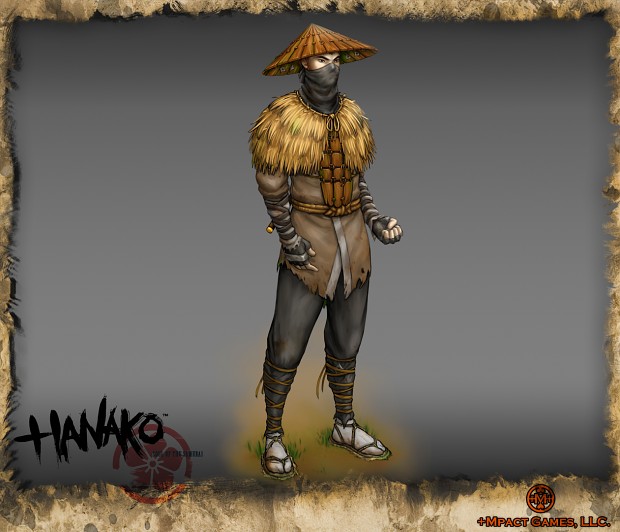 Character Art/Animation
This team was the most affected by the departures. We welcome a new animator though, with over ten years of experience doing 3D animation so we're very excited to have him on board. Our junior character artist will assume the role of primary character artist to produce the remaining two characters for release and rigging will be something handled in a one-off basis or some other method (some team members have experience with this, so they may knock out rigging tasks).
The Ninja character is about half-way done, in terms of his high poly sculpt in Zbrush. That sculpt will be passed along to our new primary character artist to start on soon. We decided to shift another character ahead of the ninja to make for a more facilitated pipeline and game balance, since the Ninja throws a bit of a star into basic gameplay 🙂 (He's going to be pretty awesome we hope).
Our animator will be focused on rounding out the rough animation set for the Archer and wrapping up a few lingering polish animations for the Kenshi.
Programming
The programming team will begin focusing on the Archer character now that our emphasis on demo production has shifted. There will also be some implementation of our Armor mechanic and some other secondary mechanics that supplement our combat system as we keep refining that.
Environment/Level Design
We are wrapping up some minor, small assets to give Gifu Crossroads more life as well as starting blockout phases and pre-production for our next level, Yari Foothills. This map features a new gamemode we will release more information on later.
Concept
With Irene's finished concept of the ninja, she will start working on the final color version of our next character, which we will be announcing very soon, once it's ready to show. In the meantime, here is are drawings she did as we went through various rounds of iteration and feedback to end up with our color concept: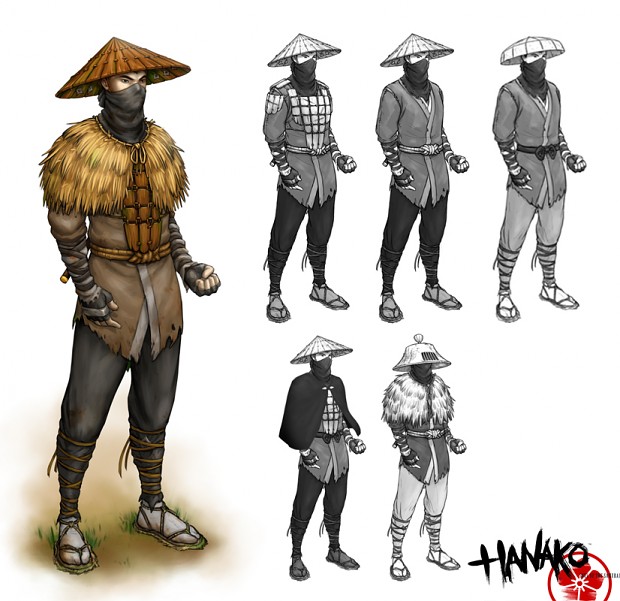 That's all for now. Please spread the word to your friends and let them know we're around! We appreciate all your support, please drop us a line or come check out any of our dev streams.
Twitter: @HanakoGame, @mattcanei
Facebook: www.facebook.com/hanakosoulofthesamurai
Twitch: Twitch.tv
Thanks,
Matt