Most Important Update Things
So we invited a group of around 20 streamers, close fans and friends to play Hanako – SotS for the first time in a demo build and we couldn't be happier with the results. Not only did we get extremely valuable feedback to help shape the future of the game and for the first time in seven years of development, we finally got to see people genuinely enjoy our game, despite it being in very early stages. One of our streamer frieneds streamed some of the session to an audience of around 150 and it was virtually unanimously well-received to our overwhelming surprise.
We're extremely excited to carry this momentum into the new year, may 2015 be the year of Hanako. Below is a video of the entire play session and all the matches we played (even some clips of our blockout of the next map we haven't shown yet).
Combat Update:
One of the primary focuses for the demo build, was to really polish our sword combat as much as possible during the two weeks leading up to last Wednesday. We specifically focused on transitions between different poses and states, and despite some bugs (as always in pre-alpha), we were able to make a ton of progress and swordplay is feeling as good as it ever has in the history of the project. I'm really excited for where we're headed with this area, testers had a great time even despite some issues. It was our first large test, so we quickly discovered some balance issues and will address them in our next demo.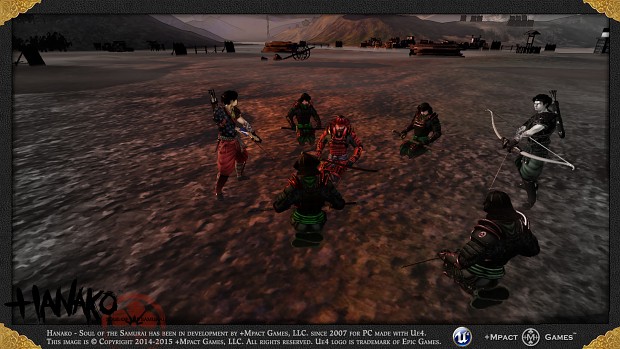 Art Update:
We went back to Gifu Crossroads (seen in the video and image above) and added some more set dressing to the battle areas, to frame the primary area we intend for battles to take place. This seemed to be a well received change. I've also been putting in work on getting cliff/rock faces complete for the Yari Foothills map, and will be spending a lot of my holiday building as much art as possible for it. We were really thrilled that most of the testers and stream viewers described the art as "beautiful and unique." These are two words we've definitely targeted and were humbled to hear back from our players.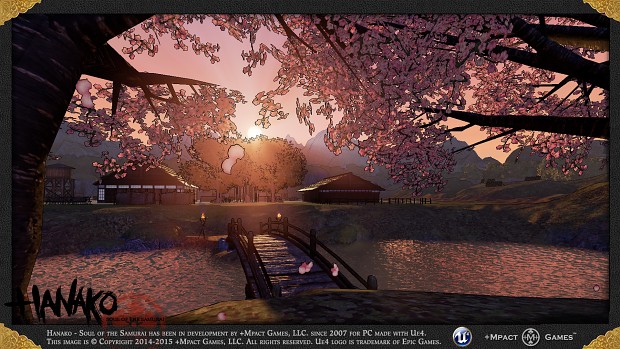 Programming Update:
As mentioned above, our programmers have been focused on giving polish another round of combat. With the demo build squared away, we'll be making a few balance/combat changes then will resume filling in more abilities for the Archer and preparing to begin production on our 3rd character class, to be announced around the time the Kickstarter launches in Feb/March.  They will also be focusing on the game mode rules and code for the game mode to premiere with the Yari Foothills map, that's an offshoot of a CTF-type game mode but with our own twist to the classic design.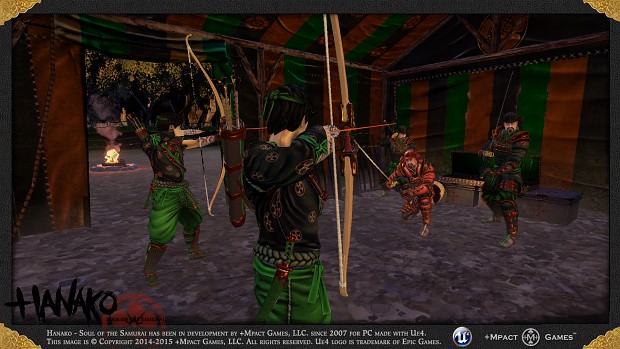 Steam Greenlight: 
We are aiming for an early January launch to go live on Steam Greenlight to start getting those 'YES!' votes and hopefully get Greenlit before we launch the Kickstarter. That will give us a huge boost, and facilitate our ability to give in-game rewards to backers and set up our store to provide customized weapons and other things TBD. We will absolutely need as much support as possible, so if you like anything you've seen or read, please follow any of our social networks that will certainly be plastered with Greenlight links as soon as we launch!
Twitch: twitch.tv/hanakogame (Multiple weekly dev streams)
Twitter: @HanakoGame, @mattcanei
Facebook: www.facebook.com/hanakosoulofthesamurai
Website: Hanakogame.com – Sign up for our mailing list for exclusive news not posted here, and early bonuses/news down the road.
Thanks,
Matt